Toyota builds 30-millionth vehicle in the United States
Toyota Sienna Celebrated As 30 Millionth U.S. Produced Vehicle
30 Million! That's how many U.S.-assembled Toyota vehicles have rolled off the line at the Princeton, Indiana, Toyota Motor North America (TMNA) manufacturing plant. With a flash of its lights and a honk of the horn, the all-new, all-hybrid 2021 Toyota Sienna was the "milestone" vehicle as it moved off the production line and into Toyota's history book.
---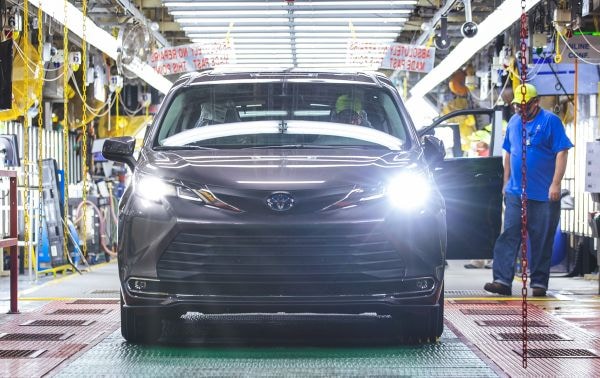 ---
Since first beginning U.S. production in 1986, Toyota has since grown to include 10 plants in the U.S. and 14 in North America. Showing no signs of slowing down, Toyota affirmed this commitment by pledging to invest $13 billion since 2017, adding more than 6,500 new jobs. At Toyota Indiana, the commitment led to the creation of 550 new jobs and an investment of $1.3 billion in new tooling and technology.
Styled and designed in California, and developed and engineered in Michigan, the Sienna is among Toyota's most American vehicles and is the ideal illustration of the company's commitment to offering alternative-powered vehicles, such as hybrid, electric, and fuel cell. Alternative powered vehicle sales represented nearly 16% of TMNA's sales volume in 2020.
"Being responsible for Toyota's 30-millionth U.S.–assembled vehicle is a huge point of pride for all of us at Toyota Indiana," said Leah Curry, Toyota Motor Manufacturing Indiana president. "Together with our supplier partners, we build vehicles with our customers in mind. We've worked hard to give them an all-new Sienna that's ready for any of life's adventures."
---
See for yourself why over 30 million Toyotas have been made right here in the U.S. For pricing and availability information, browse our new Toyota inventory, call us, or stop by our neighborhood Toyota dealership.